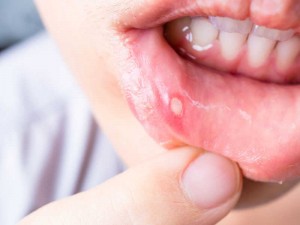 Mouth ulcers are painful areas in the mouth and gums.
While mostly harmless, mouth ulcers can be extremely uncomfortable and make it difficult for some people to eat, drink, and brush their teeth.
Mouth ulcers range in size, and the exact symptoms of the mouth ulcer will depend on what type of ulcer a person has.
Fast facts on mouth ulcers:
Most mouth ulcers are recurring
 Acidic foods can aggravate mouth ulcers.
It is important to note that a doctor or dentist should examine any new ulcer and any ulcer lasting longer than 3 weeks.
For most people, mouth ulcers will clear up within 2 weeks.
Causes
The exact cause of mouth ulcers is still not known and varies from person-to-person. Still, there are some common causes and several factors that may aggravate mouth ulcers, including the following:
Biting the tongue or inside of the cheek
Braces, poor-fitting dentures, and other apparatus that may rub against the mouth and gums
A deficient filling
Stress or anxiety
Hormonal changes during pregnancy, puberty, and menopause
Medications including bit-blockers and pain killers
genetic factors
Symptoms of minor and major ulcers include:
one or more painful sores that may appear on the cheeks, the roof of the mouth, or the tongue
the appearance of round lesions that have red edges and are yellow, white, or gray in the middle
During more extreme outbreaks of mouth ulcers, some people may experience fever, sluggishness, and swollen glands.
Treatment
In many cases, the pain and discomfort from mouth ulcers will lessen in a few days and then disappear in about 2 weeks with no need for treatment.
For people with much more painful or frequent recurrence of mouth ulcers, a dentist may prescribe a solution to reduce swelling and lessen pain.
Also, a dentist may prescribe an antimicrobial mouthwash or an ointment to be applied directly to the infected patch. This can help to ease discomfort. Various mouth ulcer treatments are also available to purchase
Avoid spicy and sour foods until the ulcers heal.
Drink plenty of fluids.
Regularly rinse your mouth out with warm, slightly salted water.
Keep your mouth clean.
Use an alcohol-free medicated mouthwash
Use a topical steroid mouthwash or ointment – generally prescribed by your dentist or oral medicine specialist.