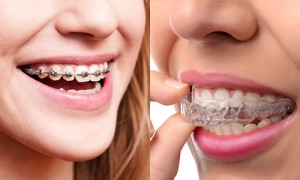 Guys, Today we will talk about some thing interesting. how many of you want to straighten your teeth without getting braces? Many of you must have wondered at some point of time why teeth cant be straigtened without getting braces and all that hurt which you go through with braces. So, here is the solution to all your those problems .
Yes today we will talk about invisalign which is the new technology developed to get straight teeth without getting braces. Invisalign aligners are set of clear transparent, virtually invisible  aligners which are customized for an individual and fit snugly over your teeth.
How These Aligners Work ?
A set of few aligners is customized for every individual. These aligners move the teeth slightly in horizontal , vertical direction and sometimes causes rotation wherever needed. Each aligner has to be worn for 2 weeks which causes slight movement and then changes to next aligner.
These aligner needs to be worn for full time except for the meals. They need to be removed during meals and while having any sugary drinks.
Advantages of aligners?
Virtually invisible so most people won't even know you're going through treatment
Gives you a confident smile
Comfortable treatment
No pain from sharp braces
No breakages and no pain
Shorter treatment duration
Results can be easily monitored by the patient
Has blue indicator dots to monitor patient compliance
Easy to remove and wear
Is Invisalign treatment appropriate for you?
For the majority of cases, the answer is yes. Invisalign treatment is clinically proven to be effective for a broad range of teeth straightening cases, from mild to complex. These are few common problems which are easily treated :
Gapped teeth
Overbite
Openbite
Underbite
Crowded teeth
Cross bite